Patient Testimonial Videos
Part II of Mr. Trouble. He had a rapid recovery minimally Invasive Direct Superior Total Hip Replacement. This video shows his recovery from surgery through the first 8 weeks.
- Sep 25, 2018
This is self proclaimed "Mr. Trouble" who has now undergone 2 successful total hip replacements. He is an avid racket ball player and sometimes it gets him in trouble.... One of my very funny patients. I never know what to expect. Part II will show his surgical recovery. He has done great!
- Sep 25, 2018
This video shows the recovery during the first 4 weeks following a robotic assisted cruciate retaining total knee replacement. Patient is an avid golfer and his ultimate goal was to return to not just daily activity without pain but also golf. He is happy to report he is back to golfing but is not sure if his game has improved. By preserving his PCL, we retain more natural anatomy and support which makes the surgery less invasive and improves the feel of the knee. He also followed our rapid recovery protocol as part of the Revive Joint Replacement Program at Casa Colina Hospital in Pomona, CA.
- Aug 30, 2018
Caught up today with one of my great patients for his 3 month followup from a muscle sparing direct superior total hip replacement. He was so happy with his new hip he wanted to share his experience and recovery. He has done incredibly well. He followed our rapid recovery protocol at Casa Colina as part of our Revive Joint Replacement Program.
- Aug 29, 2018
One of my awesome patients following a muscle sparing minimally invasive total hip replacement using robotic assistance. She returned home within 24 hrs with minimal pain and walking with a cane. The key was getting her ready for surgery, and using an approach that allows immediate function and mobility, along with using different techniques to minimize her pain. This video is part II and shows some of the surgical aspects and her immediate post operative care at Casa Colina Hospital as part of the Revive Joint Replacement Program.
- July 26, 2018
This is one of my awesome patients following a Robotic Total Hip Replacement. I also combined this technology with a muscle sparing minimally Invasive approach. She was gracious enough to share her experience. She returned home in less than 24 hrs. Will follow with part II which will show further details of the surgery and her recovery.
- Mar 26, 2018
Patient is an 88 year old healthy woman who is very high functioning who Dr Corrales did a minimally invasive direct superior left hip replacement on recently. She went home within 24 hours. Dr Corrales also replaced her right hip about 6 months ago. She has done very well following both operations.
- Mar 26, 2018
Day 1 bilateral Robotic Assisted Partial knee replacements. Patient was discharged home within 24 hours walking with a single point cane. He had full functional active range of motion at discharge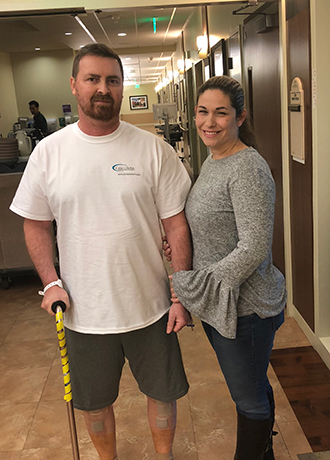 - Mar 26, 2018
Day 1 S/P robotic assisted TKA at discharge. Dr. Corrales' 79 year old patient with her husband. "I could not have been more pleased with my care! I was so nervous until I went to the pre op class and joined JointCOACH(online patient portal). By the day of surgery I was very prepared!"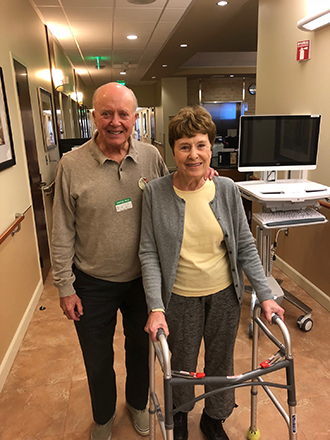 - Mar 23, 2018
George McKee Robotic Arm Assisted Total Knee Replacement - Dr Corrales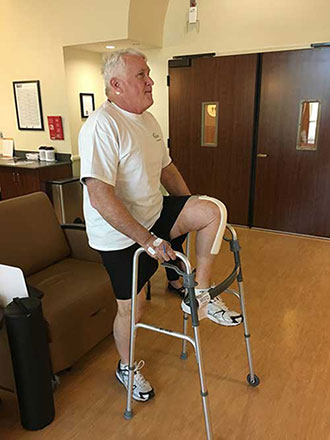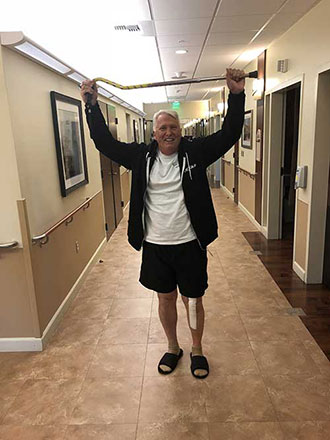 This patient George McKee has a robotic arm assisted total knee replacement by Dr Corrales on Wednesday February 28,2017 and these photos were taken ~24 hours later prior to leaving using a cane. Patient was able to walk and stair climb one foot after the other. Notes minimal to no discomfort and went home a noon the day after surgery.
- Mar 8, 2018
Write a review