The Revive Joint Replacement Program
Move Towards a Better Life
The Revive Joint Replacement Program at The Orthopedic & Robotics Center at Casa Colina gets patients moving with innovative techniques that minimize pain, accelerate recovery and improve outcomes. Our board-certified surgeons use state-of-the-art technology and the latest research-based treatment methods to perform joint replacement surgery which involves removing an arthritic or damaged joint and the surrounding worn cartilage that has worn over time. They replace it with a prosthesis or artificial joint, which functions much like a normal, healthy joint.
Casa Colina's Joint Replacement Program involves:
Board-certified highly experienced orthopedic surgeons and anesthesiologists
A multidisciplinary team of clinicians who specialize in joint replacements
A case manager and orthopedic care coordinator to plan your care every step of the way
Proven clinical pathways and protocols to ensure a successful surgery and rapid recovery
A pre-operative patient screening at Casa Colina, which may include a consultation with an anesthesiologist to ensure your health condition is appropriate for surgery
A Joint Replacement Education Class for you and your caregiver (or "Coach") to help prepare you both for what to expect before, during and after your surgery
Physical therapy to promote rapid recovery
As a guest at Casa Colina Hospital, you will have access to a continuum of pre- and post-operative care. Outpatient programs and services available on our 20-acre Pomona campus that may support your recovery include:
Physical and occupational therapy
Aquatic therapy
Diagnostic imaging and laboratory
On-site pharmacy
Physician specialty centers
Our experienced team finds innovative ways to help joint replacement patients recover from surgery and return to an independent lifestyle as quickly as possible.
Services
Robotic-arm Assisted Surgery
Partial Knee Replacement
Total Knee Replacement
Minimally Invasive Surgery
Knee Replacement
Hip Replacement
Shoulder Replacement
The Revive Experience
It's Time to Start Living Life to the Fullest
At Casa Colina, we believe better begins with comprehensive care plans, an experienced team of board-certified surgeons, and top-of-the-line accommodations. The Revive Joint Replacement Program at The Orthopedic & Robotics Center at Casa Colina gets patients moving with innovative techniques that minimize pain after surgery, including state-of-the-art robotic-arm assisted technology. When you choose The Revive Joint Replacement Program, you not only receive the latest in surgical treatment and care, you also experience the comfort and peace of private patient recovery rooms and a dedicated team of attentive orthopedic specialists in a picturesque, resort-like setting.
The Revive Joint Replacement Program encourages a patient-centered approach in which family members and loved ones are invited to participate in the recovery journey. In our spacious, private recovery suites, patients will receive every convenience, including indoor and outdoor visitation areas, private daybeds for their designated "Coach," personal televisions, private bathrooms, and voice-activated communication with the nursing station. Bilingual staff and translation services are also available for all Revive Joint Replacement Program patients.
We encourage patients to participate in our group activities and lunches to instill a sense of camaraderie and community with other joint replacement patients. Through our JointCOACH program, pre-operative admissions testing, joint replacement education classes and ongoing support after surgery, our patients achieve the best possible outcomes, often walking the same day as their surgery and returning home the day after surgery. In some cases, our partial knee replacement patients go home on the same day as surgery.
Robotic-Arm Assisted Joint Replacements
What is Robotic-arm Assisted Joint Replacement?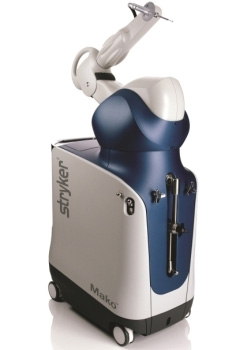 The Revive Joint Replacement Program uses the latest robotic technology and 3D modelling to make total knee and partial knee replacements more individualized than ever before. Through virtual imaging, our joint replacement surgeons can map out each step of the surgical process prior to the procedure, allowing for the highest level of precision and efficiency. With the ability to treat each patient's unique needs with extreme accuracy, robotic-arm assisted joint replacement typically results in a more rapid recovery and shorter hospital stay while promoting a better fit, stability, balance, and feel of the replaced joint.
Robotic-arm assisted technology is incredibly effective in partial knee replacement surgery. During this procedure, the surgeon uses the robotic arm to selectively target specific areas of the knee damaged by arthritis and spare areas with healthy cartilage and bone. Unlike more invasive procedures, robotic-arm assisted partial knee replacement is performed through a smaller incision and spares healthy areas of the knee not affected by arthritis. Studies have shown robotic-arm assisted partial knee replacement to be two to three times more accurate than manual partial knee replacement procedures.
How it Works
Have a Plan Personalized to You

It all begins with a CT scan of your joint that is used to generate a 3D virtual model of your unique anatomy. This virtual model is loaded into the system software and is used to create your personalized pre-operative plan.

In the Operating Room


In the operating room, your surgeon will use the robotic-arm to assist in performing your surgery based on your personalized pre-operative plan. This technology allows your surgeon to make adjustments to your plan during surgery as needed. When the surgeon prepares the bone for the implant, the robotic-arm guides the surgeon within the pre-defined area and helps prevent the surgeon from moving outside the planned boundaries. This provides more accurate placement and alignment of your implant.

After Surgery

After surgery, your surgeon, nurses, and physical therapists will set goals with you to get you back on the move. They will closely monitor your condition and progress. Your surgeon may review an x-ray of your new partial knee with you.
The JointCOACH Program
Ongoing Support to Get You Moving
To ensure lasting, positive patient outcomes, The Revive Joint Replacement Program enrolls patients in its exclusive JointCOACH online portal, a dynamic digital resource that can be easily accessed on a smartphone, tablet or computer. JointCOACH assigns patients with a unique CarePath that addresses the steps needed to achieve a successful joint replacement experience. Through JointCOACH, patients will receive instant reminders and questionnaires to assess improvement in function and quality of life following surgery and answers to any questions that arise during the length of their CarePath. Providing access to their Revive orthopedic surgeon, orthopedic care coordinator, nurses, and physical therapists, JointCOACH keeps patients connected to their care team throughout the entire process. Through JointCOACH, we continue to follow up with patients for a period of 12 months to ensure they are getting the best possible outcomes after their joint replacement surgery.
Pre-Operative Care
Dedicated to Comfort and Safety
Preventative Patient Screening

As patient safety is our number one priority, all surgical candidates undergo Pre-Operative Admissions Testing coordinated by a registered nurse. This unique program identifies high-risk patients and unforeseen health conditions to ensure surgery and recovery go as smoothly as possible. During Pre-Operative Admissions Testing, an anesthesiologist will review all patient charts prior to surgery, in many cases meeting directly with the patient to discuss their individualized surgical plan. Through Pre-Operative Admissions Testing, surgeons and staff can better determine if a patient is safe to undergo surgery, while highlighting and addressing any possible health risks. This innovative measure prevents same day surgery cancellations, optimizes patients for surgery and leads to the highest level of patient outcomes.
Joint Replacement Education Class
To better prepare patients for surgery, the Revive Joint Replacement Program hosts a pre-operative education class where they will learn what to expect before and after surgery. Here, patients and a designated friend or family member, also known as the patient's "Coach," will receive guidance and education that covers the entire surgical and recovery process. Bilingual classes are also available for Spanish speakers.

Post-Operative Care
Ongoing Care for Better Outcomes
Proactive Pain Management

The Revive Joint Replacement Program team uses innovative techniques before, during and after surgery to anticipate and manage pain, often before it occurs. Partial and total knee replacement candidates also have access to robotic-arm assisted surgery, which is less invasive and typically results in minimized pain. To ensure the swiftest and most comfortable recovery possible, we incorporate multimodality pain management, which includes non-pharmaceutical interventions, such as cold therapy, stretching exercises, walking, distraction guided imagery and breathing techniques.

Rehabilitation
Our team of highly trained orthopedic physical therapists get patients walking the same day as their surgery. Therapists meet with patients regularly to track and monitor their increased mobility on the Revive Joint Replacement Program's "Journey Board." Upon discharge, patients have the option of continuing outpatient rehabilitation at Casa Colina's Pomona or Azusa locations. Patients may also receive direction on next steps from their insurance provider.
Meet Your Team
The Best in Joint Replacement Surgery
The Revive Joint Replacement Program provides patients with highly personalized care led by a dedicated team of orthopedic surgeons, nurses and physical therapists for quicker recoveries and improved outcomes.
Luis Corrales, M.D., Board-Certified Orthopedic Surgeon
As Medical Director of the Revive Joint Replacement Program, Dr. Corrales leads the clinical staff to ensure Revive Joint Replacement patients receive the highest level of care possible before, during and after surgery. Dr. Corrales and his team educate patients before surgery so they know what to expect and how to prepare. These efforts to optimize health before surgery ensure positive outcomes, minimize post-surgical pain and get patients up and moving as quickly as possible.
Dr. Corrales earned degrees at UCLA and Harvard Medical School before completing his residency at the UCSF Orthopaedic Residency Program. He continued his surgical training through two prestigious orthopedic fellowships: The Hip and Knee Joint Replacement and Reconstruction Surgery Fellowship at the Malabar Orthopaedic Institute in Australia and The Trans-Tasman Shoulder and Elbow Surgery Fellowship at Otago University in New Zealand.
"I love restoring the body's function, alleviating pain and improving quality of life. The most rewarding part of my work is forming a connection with my patients and helping them become healthier, happier and enjoy a more active life." – Dr. Luis Corrales
Joint Replacement Guides
Download our free guide to find out what you should be doing next to prepare for your surgery at The Orthopedic & Robotics Center at Casa Colina.
Note: The information and images included herein is the property of Caso Colina.

Learn More about The Revive Joint Replacement Program
You will need the Adobe Reader to view and print these documents.Get Adobe Reader